FIR against The Wire Editor: More than 100 journalists condemn attempts to muzzle the media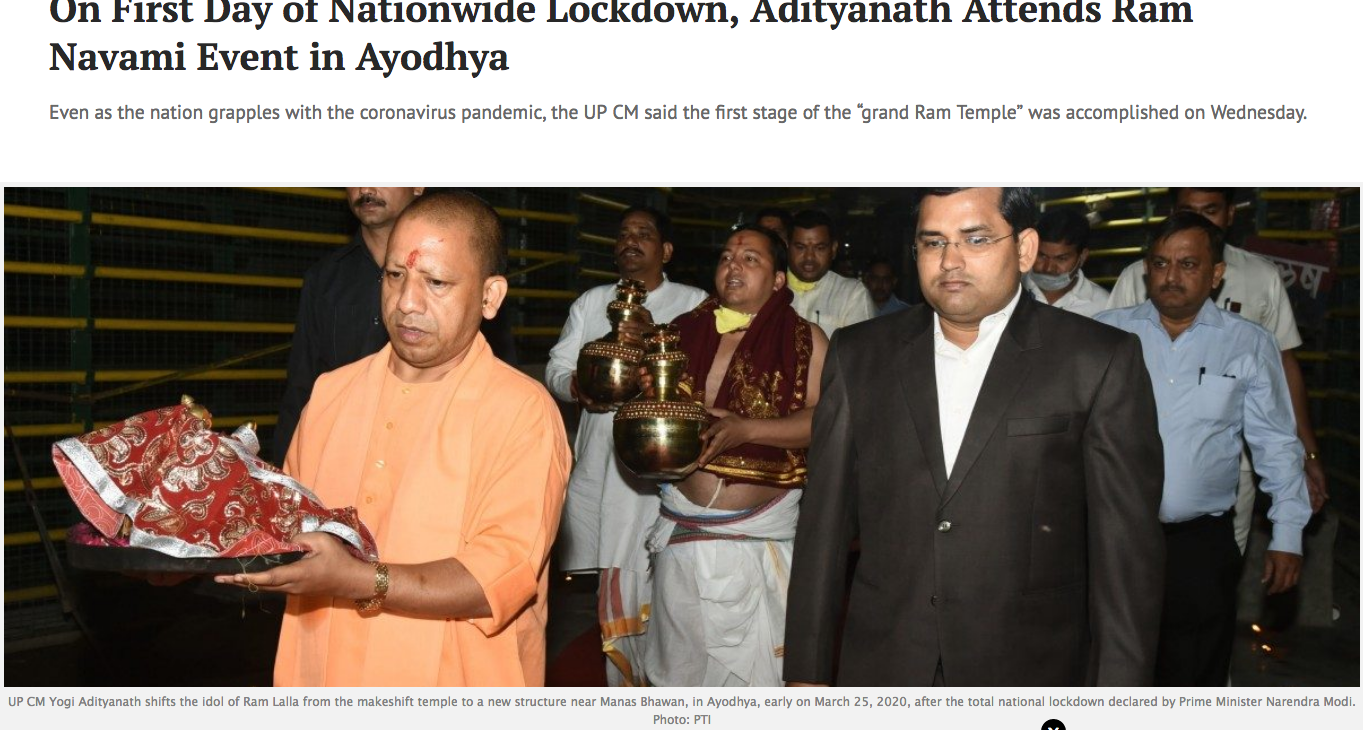 The Uttar Pradesh government's vindictive action against The Wire editor Siddharth Varadarajan has drawn widespread condemnation from journalists and other members of civil society across India. The Uttar Pradesh police filed an FIR against the editor for an article regarding the attendance of Uttar Pradesh Chief Minister Yogi Adityanath at a Ram Navami celebration in Ayodhya on March 25 despite a national lockdown.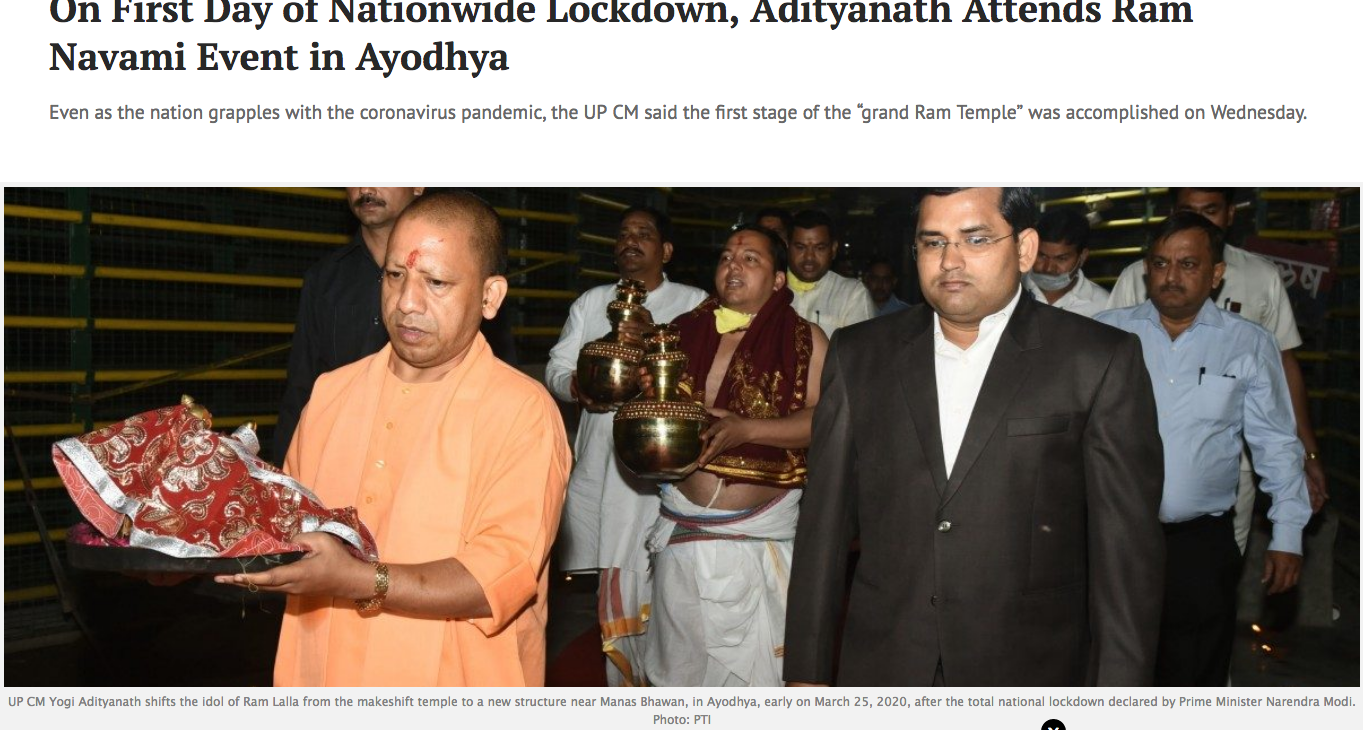 The Delhi Union of Journalists, in a statement, said that during the unprecedented COVID-19 crisis, journalists are putting their lives at risk to "report developments vital to control of this national health emergency. Instead, the FIR was 'harassment of a senior journalist and an attack on media freedom at a critical time'.
The New Your-based Committee to Protect Journalists (CPJ) called upon the Uttar Pradesh police to immediately drop the criminal investigation into Vardarajan.
In another statement released today, more than 120 journalists demanded an end to such politically motivated harassment of mediapersons:
More than 100 journalists condemn attempts to muzzle the media
Statement dated April 11, 2020
We, the undersigned members of the journalist fraternity strongly condemn the FIRs filed against Siddharth Varadarajan, Founding Editor of the Wire by the Uttar Pradesh government. This constitutes nothing but a brazen attempt to muzzle the media.
The Wire was accused of causing panic when it reported that UP chief minister Yogi Adityanath attended a religious event on March 25 at Ayodhya on the occasion of Ram Navmi, when a national lockdown was in force.
The Wire has held that the CM's presence was a matter of public record and knowledge. A sentence in an article in the Wire had wrongly attributed a statement made by Acharya Paramhans to the chief minister, which was not only retracted but a corrigendum issued as well.
Rather than let the matter end there, a FIR was filed in Faizabad district. On April 10, a team of the UP police descended at Siddharth Varadarajan's residence to serve him a notice for appearing on April 14, irrespective of the fact that a nationwide lockdown was in force.
The manner in which the U.P government and its police have been pursuing this with a single-minded agenda smacks of vindictiveness. The state has an extra responsibility to exercise restraint on use of its powers when citizens are restricted in exercising many of their usual democratic rights. Freedom of the press is doubly important in such a context as people cannot make news themselves, but independent media is the most important medium of expressing their concerns. We demand that such politically motivated harassment of media persons should stop immediately.
Supported and endorsed by:
1. Shobhna Jain,Sr. Journalist
2. T.K Rajalakshmi, Frontline
3. Sonal Kellogg, Independent Journalist
4. Aruna Singh, Independent Journalist
5. Ravinder Bawa, Independent Journalist
6. Neelam Jeena,Sr, Correspondent, Sandhya Jyoti Darpan Daily
7. Parul Sharma, Independent Journalist.
8. Venkitesh Ramakrishnan, Sr Associate Editor, Frontline
9. Anuradha Bhasin, Editor, Kashmir Times
10. Sajjad Haider, Editor, Kashmir Observer
11. Saif Khalid, Deputy Editor, Al Jazeera
12. Priti Prakash, Editor, facenfacts
13. Parul Jain, Freelancer
14, Anjali Deshpande, Independent Journalist.
15. Sujata Madhok, Independent Journalist.
16. Seema Mustafa, Editor, The Citizen
17. Paranjoy Guha Thakurta, Senior Journalist
18. Saroj Dhuliya, Navbharat times.
19. Aditi Nigam, Newsclick
20. Anju Grover, Independent Journalist.
21. Kiran Shaheen, Independent Journalist.
22. Karuna John, Independent Journalist.
23. Vidya Subramaniam, Independent Journalist
24. Sumita Mehta, Sr. Journalist
25. Rashmi Sehgal, Sr. Journalist
26. Ashlin Mathew, journalist
27. Hema Ramakrishnan, Senior journalist
28. Anjali Ojha, Journalist
29. Subodh Verma, Newsclick
30. A.M. Jigeesh, Business Line
31. Ajoy Ashirwaad, The Wire
32. Iftikhar Geelani, Senior Journalist
33. Majid Maqbool, Contributor, Foreign Policy, The Globe Post
34. Teesta Setalvad, Senior Journalist
35. Majid Hyderi, Independent journalist and TV commentator
36. P L Vincent, senior journalist
37. Rosalyn D'Mello, Freelancer
38. Praveen Khariwal, President, Press club of MP
39. Gautam Lahiri, Senior Journalist
40. Qazi, Journalist
41. A.J. Phillip, Senior Journalist
42. Jose Kalathil, Senior Journalist
43. Ramesh Menon, Contributing Editor, India Legal
44. Albert Thyrniang, Contributor, Shillong Times
45. Avtar Negi, Senior Journalist
46. Dr John Dayal, former treasurer, Editors' Guild of India, Author
47. Neha Dixit, Independent journalist
48. Sonia Khurana, Visual artist
49. Shuddhabrata Sengupta, artist and writer
50. Akshaya Mukul, Journalist and writer
51. Revati Laul, Independent Journalist
52. Manoj Mitta, Journalist and author
53. Divya Trivedi, Frontline
54. Arti Jaiman, Community broadcaster
55. Nirmal John, journalist and author
56. Anando Bhakto, Frontline
57. Shweta Rashmi, Independent Journalist
58. Neerja Chowdhury, Senior Journalist
59. Anita Saluja, Senior Journalist
60. Aniruddha Bahal, Senior Journalist
61. Jeejo Augustine, Senior Journalist, Borneo Bulletin
62. Ravivarma , Navamalayali current affairs online ( political editor )
63. Shankar Raghuraman, Senior journalist
64. P K Datta, Senior journalist
65. Debashis Chatterji, Senior journalist
66. G.Shankar, President, Kerala Patrapravarthaka Association
67. Shastri Ramachandaran,Senior journalist,(Editorial Consultant, WION)
68. Purnima Tripathi, Frontline
69. Pankaj Molekhi, senior journalist
70. Akshay Deshmane, Huffington Post.
71. Ammu Joseph, Journalist and author
72. Gokul Krishnamoorthy. Independent Columnist (ET Brand Equity, Financial Express).
73. Anand Kochukudy, Editor, The Kochi Post
74. T V Jayan, Senior Deputy Editor, Hindu Business Line
75. Shajahan Madampat, Columnist, Outlook
76. Ajaz Ashraf, Freelancer.
77. Gayatri J, Consultant, Sabha TV, Thiruvananthapuram, Kerala
78. VM Deepa, Senior Consultant, Sabha TV, Thiruvananthapuram, Kerala
79. V. Venkatesan, Frontline
80. Sundeep Dougal, Independent Journalist
81. Raksha Kumar, Independent journalist
82. Sushma Varma, Senior Journalist
83. Laxmi Murthy, Independent Journalist
84. VK Raveendran, Editor, Gaddhika Daily, Payyannuur, Kerala
85. Rajaram S, Senior Executive Editor, Carees360
86. Preetha Nair, Outlook magazine
87. Sukumar Muralidharan, Freelance Journalist
88. P. V. Thomas, Freelance Journalist
89. Swati Goswami, Independent Writer, Ahmedabad
90. Priya Raveendran, Senior Consultant, Sabha TV, Thiruvananthapuram, Kerala
91. Nirmesh Singh, AgriNation
92. Saimi Sattar, The Pioneer
93. Bishakha De Sarkar, The Hindu Business Line
94. Smitha Verma, freelance journalist
95. Japleen Pasricha,
96. Preeti Mehra, journalist, New Delhi
97. Sudhanva Deshpande, publisher
98. Anita Dube, Artist, Gr. Noida
99. Asad Ashraf, Independent journalist
100. Samita Bhatia, Lifestyle writer
101. Jagan Negi freelance, Photo-Journalist
102. Neethu Eldose, Journalist
103. Sunil Menon, Outlook magazine
104. N.B. Nair, Executive Editor, Indian Science Journal
105. Ajith Pillai, journalist
106. Gargi Parsai, Senior Journalist
107. Saroj Nagi, Senior Journalist
108. Dhamini, Journalist
109. Dr Suresh Mathew, Editor, Indian Currents Weekly
110. Raza Haider, Documentary filmmaker
111. Nupur Basu, Documentary filmmaker
112. Kay Benedict, Freelance
113. P.M. Narayanan, Chief Producer, South Asia, ARD, German TV
114. Geeta Seshu, Co-editor, Free Speech by Collective
115. Kushal Jeena, Journalist
116. Ziya Us Salam, Frontline
117. Aditi Bhal, Journalist
118. Dr Mukesh Kumar, Senior Journalist
119. Shachi Chaturvedi, Senior Jornalist
120. Nadeem Ahmed, Journalist
121. Rahil Chopra, Journalist
122. Trina Shankar, Newsclick
123. Fazal Imam Mallick, Senior Journalist
124. Rukmini Anandani, Senior Journalist