Kashmir police intimidate media: UAPA against photojournalist Masrat Zahra and fake news charge against Peerzada Ashiq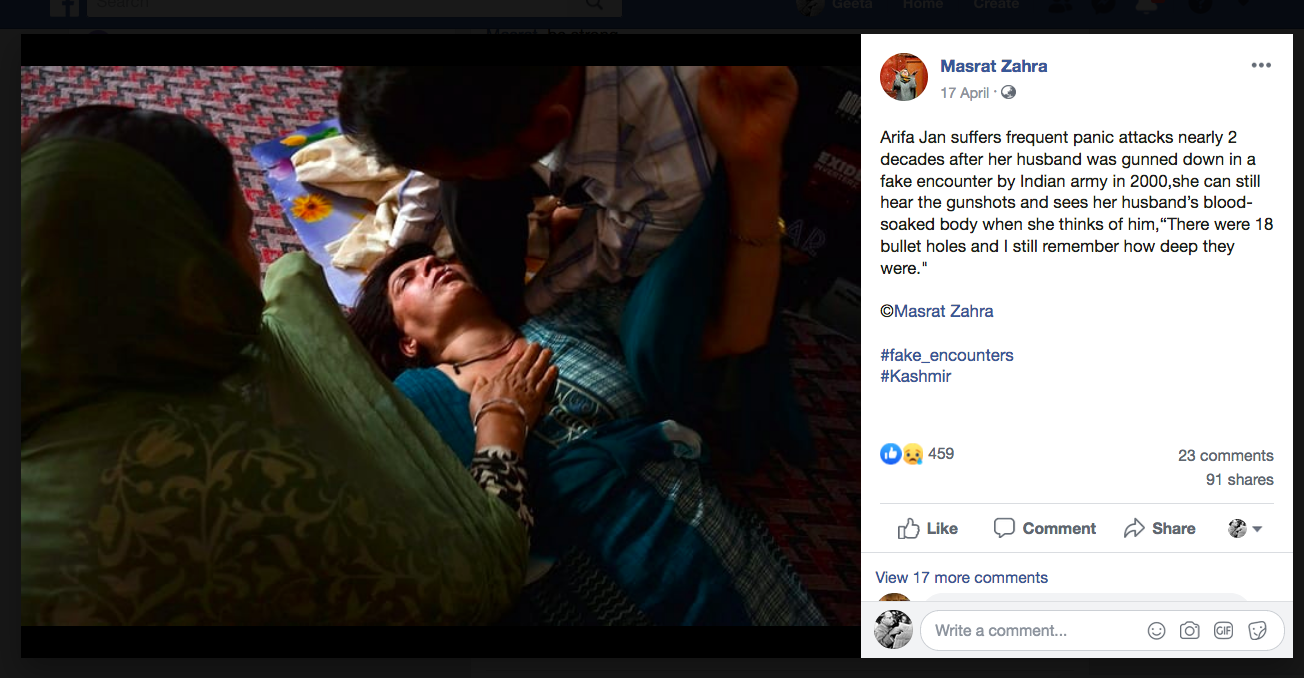 Even as it continues with a policy of intimidation and harassment towards journalists in Kashmir, the government has clearly decided to step up with penal action against anyone who steps out of line.
By Geeta Seshu
On what basis has the Srinagar Cyber police applied draconian provisions of the Unlawful Activities (Prevention) Act and the Indian Penal Code for a facebook post by Kashmiri photojournalist Masrat Zahra?
Two days ago, Masrat Zahra was summoned to the police station, ostensibly to question her on her posts. But, as this statement by the Kashmir Press Club says (scroll below), the organisation intervened and the summons were dropped.
But only just. Because, in a press release dated April 18, 2020 but made public this morning,  the Cyber police said that it 'took cognizance of misuse of Social Media' and registered an FIR against a facebook user, naming the well known photojournalist! The press release says that a case FIR No. 10/2020 U/S 13 UA (P) Act and 505-IPC was 'registered in the Cyber Police Station, Kashmir Zone, Srinagar and investigation set into motion'.
In another development, police called senior journalist from The Hindu, Peerzada Ashiq, for questioning over a report he filed in the newspaper, which the police statement claimed was fake news!  The report pertained to an encounter at Shopian and 'subsequent developments'. According to the police, the 'details quoted in the news item were factually incorrect and could cause fear or alarm in the minds of public. The news published without seeking confirmation from the District authorities. In this regard Case FIR No. 81/2020 was registered in P/S Anantnag and the individual was called at P/S Anantnag for questioning. The police is under duty and lawfully empowered under Cr.PC to call for questioning. The investigation in both the cases is in progress'.
The report itself dealt with the administration's permission to exhume the bodies of the two militants killed in encounter at Dairoo-Keegam in Shopian district. Its not exactly clear what the police found fake in the new report and the press releases are all we have to go with, since the police haven't cared to share a copy of the actual FIRs.
In the case of Masrat Zahra, the press release says that she uploaded 'anti-national posts with criminal intention to induce the youth and to promote offences against public tranquility.'  The press release claimed that the user is also 'uploading posts that tantamount to glorify the anti-national activities and dent the image of law enforcing agencies besides causing disaffection against the country.'
It ends with a warning to the 'general public' to refrain from misuse of social media platforms and circulation of unauthenticated information through such platforms.
What was the post that police found objectionable? Masrat Zahra's facebook page does not provide any posts that even remotely match the charges cited. On April 17, 2020, she posted pictures of a very moving story of a woman mourning for the loss of her husband, killed 20 years ago in a fake encounter.Other pictures, posted during the Covid-19 lockdown, showed a people, already under a lockdown of a very different kind, negotiating barbed wire and security personnel.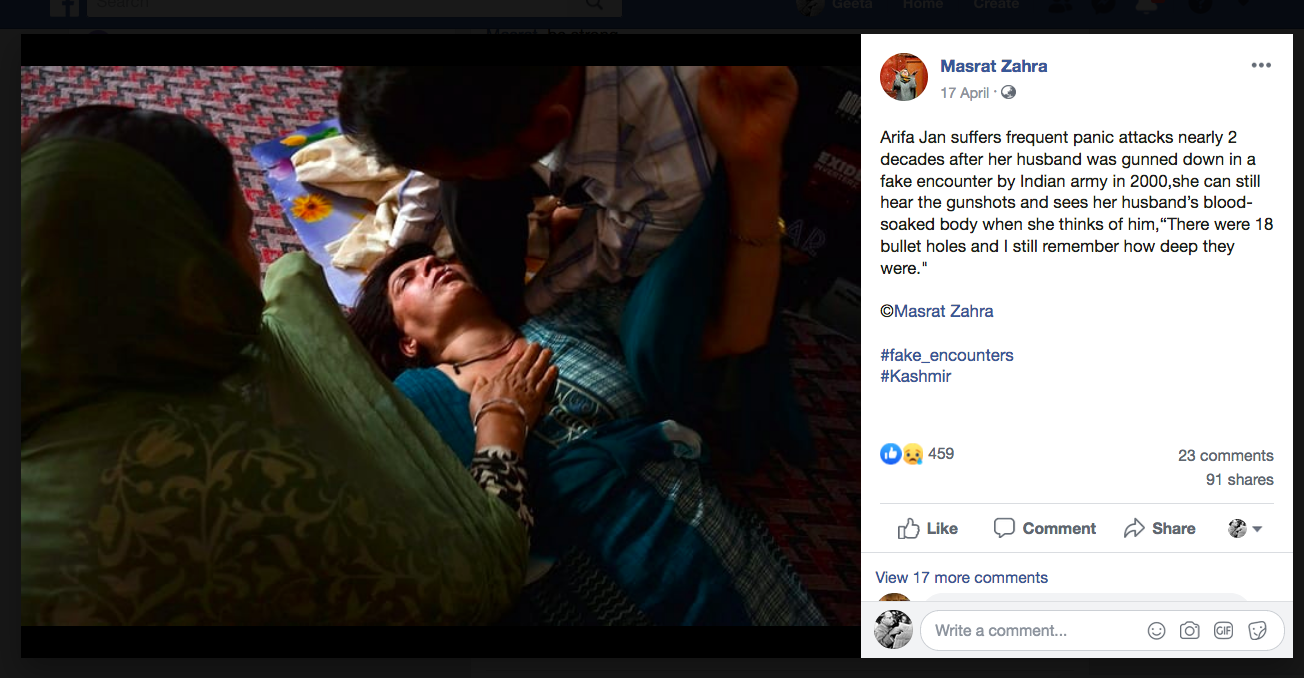 For these posts, she has been charged under Sec 13 of the UAPA which reads:
13. Punishment for unlawful activities.—
(1)
Whoever—
(a)
takes part in or commits, or
(b)
advocates, abets, advises or incites the commission of, any unlawful activity, shall be punishable with imprisonment for a term which may extend to seven years, and shall also be liable to fine.
(2)
Whoever, in any way, assists any unlawful activity of any association declared unlawful under section 3, after the notification by which it has been so declared has become effective under sub-section (3) of that section, shall be punishable with imprisonment for a term which may extend to five years, or with fine, or with both.
(3)
Nothing in this section shall apply to any treaty, agreement or convention entered into between the Government of India and the Government of any other country or to any negotiations therefor carried on by any person authorised in this behalf by the Government of India
and under Sec 505 which reads:
[505. Statements conducing to public mischief.—2[
(1)
] Whoever makes, publishes or circulates any statement, rumour or report,—
(a)
with intent to cause, or which is likely to cause, any offi­cer, soldier, 3[sailor or airman] in the Army, 4[Navy or Air Force] 5[of India] to mutiny or otherwise disregard or fail in his duty as such; or
(b)
with intent to cause, or which is likely to cause, fear or alarm to the public, or to any section of the public whereby any person may be induced to commit an offence against the State or against the public tranquility; or
(c)
with intent to incite, or which is likely to incite, any class or community of persons to commit any offence against any other class or community, shall be punished with imprisonment which may extend to 6[three years], or with fine, or with both. 7[(2) Statements creating or promoting enmity, hatred or ill-will between classes.—Whoever makes, publishes or circulates any statement or report containing rumour or alarming news with intent to create or promote, or which is likely to create or promote, on grounds of religion, race, place of birth, residence, language, caste or community or any other ground whatsoever, feelings of enmity, hatred or ill-will between different reli­gious, racial, language or regional groups or castes or communi­ties, shall be punished with imprisonment which may extend to three years, or with fine, or with both.
These cases are serious attempts to intimidate and silence journalists in Kashmir. Already, two journalists, Aasif Sultan and Qazi Shibli, are still in custody, the former since August 2018 and the latter since the abrogation of Art 370 last year.
Beleagured by a patently illegal and harsh communications blockade, the media in Kashmir is struggling to stay afloat. Journalists have been putting up a very brave resistance, working hard despite obstacles like no internet access or low broadband speed, constant threat of assault by the security forces and the slow death of media jobs with falling revenue.
Our report 'News Behind a Barbed Wire' said in September 2019: The government's control of communication processes is intrinsically undemocratic and harmful, as it privileges the voices of authority and weakens those who speak truth to power.
Even as it continues with a policy of intimidation and harassment towards journalists in Kashmir, the government has clearly decided to step up with penal action against anyone who steps out of line.
Meanwhile, here is a statement from the Kashmir Press Club :
Srinagar, April 20,2020:
The Kashmir Press Club condemns the recent cases of harassment and summons to journalists by police in Kashmir.
While journalism in Kashmir had never been easy, challenges and hardships have multiplied for journalists since August 05, 2019. Even in this time of Coronavirus pandemic journalists in Kashmir have been called to police stations and forced to present themselves to explain their stories. There are other cases where scribes have been harassed for traveling to report their stories.
In the latest incident in this regard, police has booked a young and promising female photo- journalist Masrat Zahra under 13 UA (P) Act and 505-IPC. She was summoned to Cyber Police Station, Aircargo in Srinagar on April 18, 2020. However after Kashmir Press Club and Directorate of Information intervened at the highest level, the police dropped the summon.
But now it emerges the police have filed a case against her with stringent charges and stringent acts and as per the conversation with Masrat, she has been asked to come to the Police Station concerned on Tuesday, April 21, 2020.
Masrat's work, as a freelance photo-journalist has appeared previously in Washington Post, Al-Jazeera, Quint, and Caravaan among others.
Similarly, police on Sunday (April 19) verbally summoned a senior journalist, Peerzada Ashiq, of The Hindu and asked him to explain the alleged factual inaccuracies in a story that was published the same day. While Peerzada explained his case to police in Srinagar, he was asked to travel to south Kashmir, some 40 kilometers away in evening, and present himself before a police officer in Anantnag district.
He returned late in the midnight to his home in Srinagar but in the meantime his family was terrified and concerned about his safety.
Earlier also a reporter of Kashmir Observer newspaper Mushtaq Ahmad was thrashed and arrested by the police in Bandipora when he was out during lockdown period related to his professional work. He was released only after securing a bail from the court. The Kashmir Press Club reiterates that J&K government especially the police, need to understand there is a vast difference between journalism and cyber crime.
While the government has every right to rebut a story of a journalist and allow a journalist to respond, cases against journalists for their stories and work are unwarranted and outrightly illegal and draconian. There is a full fledged government department -information and public relations – to deal with the issues between state and the journalists and any issue should be left for them to resolve.
It is very unfortunate that when the world is in a grip of pandemic and when we need to stand together to combat the Covid-19, police has started filing cases against journalists and harassing them. This is unacceptable for journalists of Kashmir who are well within their rights to seek freedom of expression and speech as guaranteed under the Constitution like other parts of the country.
In this regard, we seek intervention of Home Minister Amit Shah, LG GC Murmu and Director General of Police Dilbagh Singh to issue direction that this harassment comes to end.
We stand in solidarity with our colleagues especially Masrat Zahra and declare that journalism is not a crime. The KPC demands that the charges be dropped against her.
The Kashmir Press Club also seeks the cooperation and support of Indian and international journalist bodies at a time when the journalism in the region is under constant onslaught.
The KPC will also formally write to the Press Council of India and other bodies on these cases which seem to be aimed at pressuring journalists in the valley.
and the statement by the Network of Women in Media India:
The Network of Women in Media India (NWMI) is shocked at the FIR lodged against its member and award-winning photojournalist, Masrat Zahra, by the Cyber Police, Srinagar, under provisions of the draconian Unlawful Activities Prevention Act (UAPA) and the Indian Penal Code (IPC).
In a press release, the Cyber Police Station Kashmir Zone, Srinagar, said that it lodged the FIR against a Facebook user for allegedly 'uploading anti- national posts with criminal intention to induce the youth and to promote offences against public tranquility.' 'The Facebook user, identified by the name Masrat Zahra, is uploading photographs that can provoke the public to disturb law and order and glorify anti-national activities', the press release alleged.
The FIR was lodged on April 18, 2020, under Section 13 of the UAPA and Section 505 of the IPC. Investigations are on, the press release stated.
The NWMI believes that the charges are preposterous in the extreme and amount to rank intimidation of a journalist, and one who has won acclaim for her work, which documents the lived experiences of the people of Kashmir. Her special sensitivity towards the plight of women living under conflict in one of the most highly militarised zones in the world has been featured in both national and international publications of repute. Even a cursory look at Masrat Zahra's Facebook account reveal that her stories and photographs are deeply empathetic and accurate reports of the ground reality. Photographs do not lie but her exceptional work as a photojournalist obviously causes discomfort among the powers that be.
In fact, it is pertinent to note that Masrat Zahra was vilified and trolled online as an "army informer", barely two years ago. This was in connection with her photograph entitled 'Gun vs Camera', posted on 15 May, 2018, which shows her at work, covering an encounter between the Indian Army and a group of militants in Kachdoora, Shopian. As the NWMI statement issued then said, "such vicious and irresponsible labelling of a journalist in an already polarised political climate is dangerous and must be unequivocally condemned".
The charges against her today are an ironic and telling comment on the independent nature of her work, which draws approbation from online trolls as well as the police and security forces alike.
This is the second time in the recent past that the UAPA has been deployed against journalists in Kashmir. Journalist Aasif Sultan, who was arrested in August 2018 under the UAPA for an article on the slain militant leader Burhan Wani, published in the 'Kashmir Narrator', is still in jail.
The case represents yet another instance of the continued harassment of journalists in Kashmir and is part of the naked attempt to browbeat journalists and prevent them from pursuing their work. Journalists in Kashmir are already beleaguered and several have been reduced to precarity because the prolonged Internet shutdown and reduced internet speeds since August 2019 have sounded the death-knell for independent media in Kashmir.
As a joint NWMI-Free Speech Collective report ("News behind the Barbed Wire") on the communication blockade in Kashmir in the wake of the abrogation of Article 370 pointed out, journalists are regularly summoned to police stations and questioned about their reports and their sources of information. They have faced assault and even been fired upon with pellet guns. They are forced to work under almost continuous state surveillance.
At a time when the entire world is engaged in a struggle to deal with the unprecedented crisis caused by the Covid-19 pandemic, the state should make all attempts to enable the media in Kashmir to report events without fear or favour. It is highly regrettable that, instead, measures such as the FIR against Masrat Zahra are being adopted that serve to undermine efforts by journalists to fulfil their professional duty.
The NWMI demands:
–       The FIR lodged against Masrat Zahra be dropped forthwith.
–       Police and security forces in Kashmir and across the country stop all such tactics, which amount to intimidation and harassment against journalists.
Network of Women in Media, India
April 20, 2020