Barely 10 days into the new year and sedition was put to use, this time against prominent writer Hiren Gohain in Assam, along with activist Akhil Gogoi and journalist  Manjit Mahanta. And four days later, Delhi police filed its chargesheet in the sedition case against JNU student leaders Kanhaiya Kumar, Umar Khalid and Anirban Bhattacharya, among other students.
Indian Express reporter Abhishek Angad was on the scene to record the arrival of the chargesheet in…of all things, a trunk! His Tweet :
Last year, journalist Kamal Shukla was charged with sedition for sharing a cartoon in the wake of the Judge Loya death case while a 21-year old youth, Junaid Khan, spent five months in jail because he became admin of a Whatsapp group by default and police said objectionable content was shared on the group!
Meanwhile, in a statement, Umar Khalid and Anirban said that they were convinced of their innocence and will fight their cases legally:
A Statement by Umar Khalid and Anirban Bhattacharya in the context of the Chargesheet:
We congratulate the Delhi Police, the Home Ministry and the government for waking up from their deep slumber 3 years after 9 Feb 2016, and barely 3 months before the general elections 2019 and filing a charge sheet against us.
Lying is an art. It's not enough to just lie. One also have to time it well. A sense of timing, of placement, is what makes one a master liar. And of course, one also needs to stage one's own cheerleaders who would celebrate each of one's lies. That is the role of most of the media today under this regime.
But the people of the country have been dealing with these sanghi Thugs of Hindustan long enough now. It's been five years, nearly. They know by now that it would be raining lies as it gets closer to the elections: mandir, statues, 10% reservation, "anti-national". If the last four years saw the people of the country grappling with one jumla after the other, the closing months would be seeing the crescendo in the symphony of lies. Even with us, around the "JNU row" as they call it, its not that they didn't have their lies ready three years back. But of course, they needed to submit them in the form of a chrgesheet in the last hundred days. As the people of this country have prepared their own chargesheet against this anti-people, anti-poor and communal govt, the government once again wants to deflect attention from it's failures by raking up this issue just before elections. They need to bury their failures under these lies.
We are yet to see the chargesheet, but if what is being reported in the media is true, then we want to say categorically that we reject the charges and will contest them legally. In a way, it is good that the matter will finally move to the actual court room after almost three years of media trials. We are convinced about our innocence, and have full faith in the court. After we are proved innocent, we will legally take to task all those media houses who have spread canards about us. Their criminal, irresponsible and inflammatory handling of the entire matter has made our lives vulnerable, even jeapordising our physical safety and leading to assassination attempts. But, this is the price you pay under Modi Raj for exercising your constitutional right of speaking out for the rights of the people.
Finally, we just want to add that no amount of lies would be enough to hide their failures, their anti-poor, anti-farmer, anti-worker, anti-Dalit, anti-minority moves, their corruption, their fake-nationalism, and their desperation. They stand exposed and they will be defeated. We are confident that finally, truth would prevail.
Assam sedition cases
Assam has been on the boil with the National Register for Citizens (NRC) and then the passage of the Citizenship Bill, which seeks to exclude non-Hindu refugees from Pakistan, Bangladesh and Afghanistan into India.
According to reports, a meeting was held by the "Save Assam" forum in Guwahati and attended by eminent citizens, including former Assam DGP Harekrishna Deka, former CMs Prafulla Mahanta and Tarun Gogoi, and several activists. The Guwahati Police Commissioner Deepak Kumar said that several statements were made in the meeting and these will be investigated.
The bill, people of Assam felt, 'violates the basic tenets of 1985 Assam Accord and poses a threat to the Assamese community'. According to the complaint Gogoi criticised the Bill and talked about "initiating a struggle for a sovereign Assam, independent of India".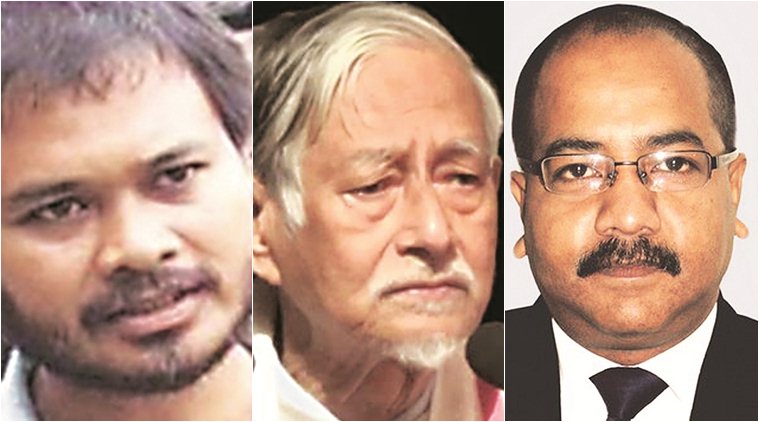 Reacting to the FIR, Gohain told The Indian Express, "I have allegedly made statements amounting to sedition. In truth, some young elements at the rally at their indignation at the attitude of the government mentioned relevance of 'freedom' of Assam. I intervened that such a demand can have relevance if and when all democratic resources have been exhausted and if the state and all democratic parties and organisations reject the legitimate demands of people of Assam."
Akhil Gogoi told The Indian Express, "This government is a fascist government. It's an Emergency-like situation in this country right now. They are trying to stop this movement and hence this case. I have not said anything seditious and I have all the courage to face this case."
Gogoi said he never mentioned "secession" or "armed struggle". He said, "I had mentioned that people will 'think' of a recourse if they do not get required powers within India's existing federal structure. And I stand by that statement."