An FSC report
Update: The expulsion of the six students of the Mahatma Gandhi Antarrashtriya Hindi Vishwavidyalaya (MGAHV) in Wardha was revoked by the administration after a public protest.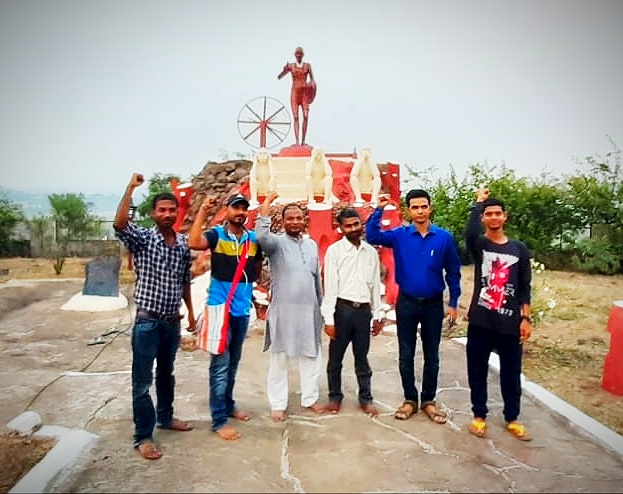 In a patently absurd and excessive administrative move, six students were expelled by the Mahatma Gandhi Antarrashtriya Hindi Vishwavidyalaya (MGAHV) in Wardha for attempting to host a programme to write a letter to Prime Minister Narendra Modi.The University said the programme would violate the model code of conduct for the forthcoming Assembly elections in Maharashtra.
The six students are Chandan Saroj, Neeraj Kumar, Rajesh Yadav Sarthi, Rajnish Ambedkar, Pankaj Wela and Vaibhav Pimpalkar. None of them are part of political parties or are candidates, to whom the model code would apply!
One of them is not even a student, having passed out and had come to the University only to collect his migration certificate. The expulsion notice also got the name of one student wrong, having taken it from his facebook account, where he used another second name instead of his registered surname!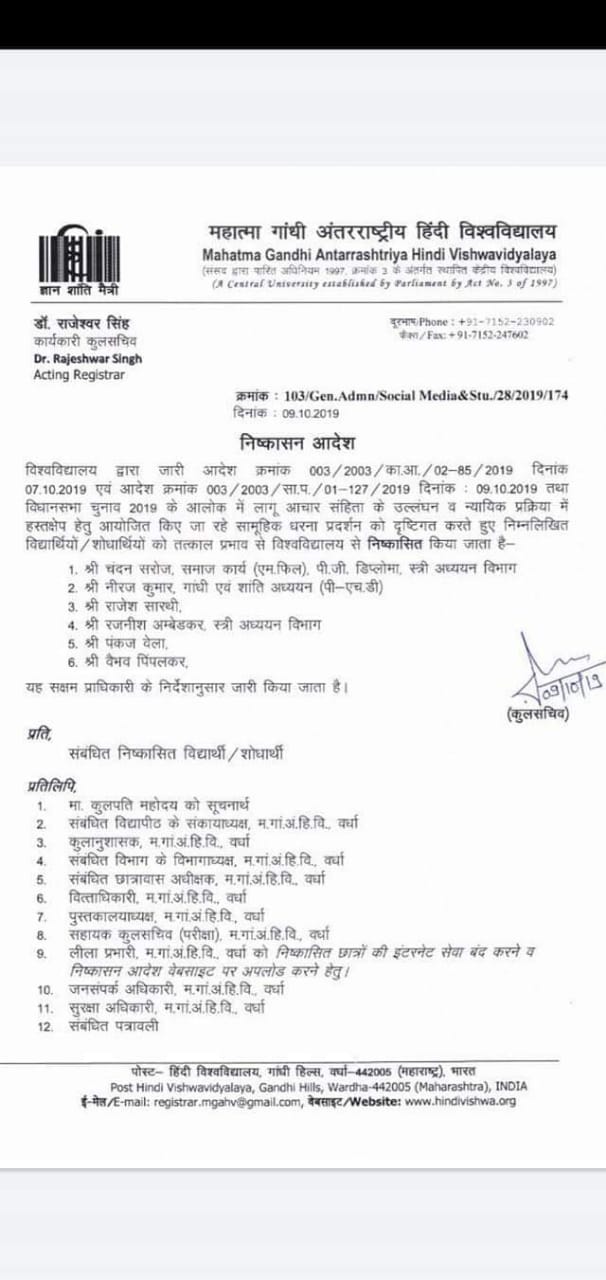 The students, who spoke to Free Speech Collective, said that they sought permission on October 7 to host the programme on October 9 because they wanted to write to the Prime Minister and bring to his attention the increasing instances of mob lynching, sexual violence and rape, the imprisonment of Kashmir for two months, the privatization of Railway-BPCL-Airport, the targeting of Muslims in the name of NRC and the sedition cases of tribal-Dalit leaders and human rights activists-writers-intellectuals across the country.
October 9 is also the day of the Parinirvan Divas of Bahujan leader Kanshi Ram and the students wanted to commemorate this too.
However, the University denied permission and threatened disciplinary action if the students held the programme. The students went ahead and when they reached the Gandhi Hill, near Wardha, they found that the university deployed security forces to stop them. Subsequently, the notices for expulsion were issued and the university cited the model code of conduct!
The students also said that the university was being extremely vindictive and casteist in its approach . The six students belong to the SC and OBC categories. Even earlier, when the students approached the University authorities to secure permission for a programme on Bhagat Singh on the occasion of the marty's birth anniversary, they were denied permission.
However, the University authorities have no problem granting permission for any programme organised by the RSS, they alleged. Vice Chancellor Rajneesh Shukla, it may be recalled, is member secretary of both Indian Council of Philosophical Research (ICPR) and Indian Council for Historical Research (ICHR).  Days before his appointment was announced by President Ram Nath Kovind, a complaint of Shukla's plagiarising of another academic's thesis during his term as reader at Varanasi's Sampurnanand Sanskrit Vishwavidyalaya, had been sent to the President.
See more videos from the students:
[youtube https://www.youtube.com/watch?v=RMZqc0-3_Qc&w=560&h=315]