End the Lockdown in Jammu and Kashmir, restore communication forthwith, demands Free Speech Collective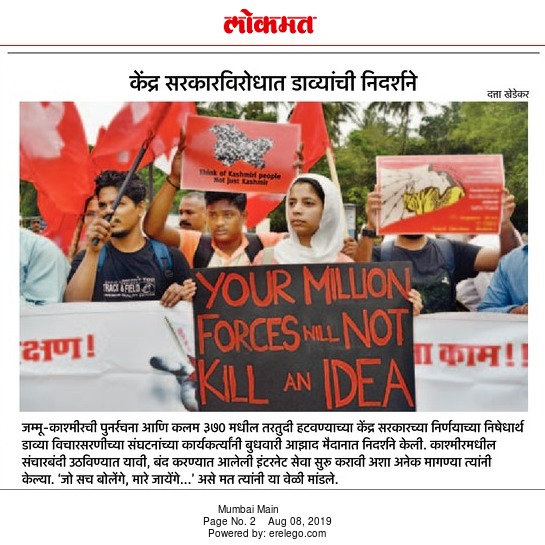 The Free Speech Collective is deeply concerned at the deafening silence from the Kashmir Valley, which has been incommunicado since August 4, 2019, a day before the cataclysmic decision to revoke Article 370 and 35A of the Constitution of India was implemented and the state downsized into two Union Territories.
While protests have erupted in different parts of the country, there is little or no authentic news from the Kashmir Valley.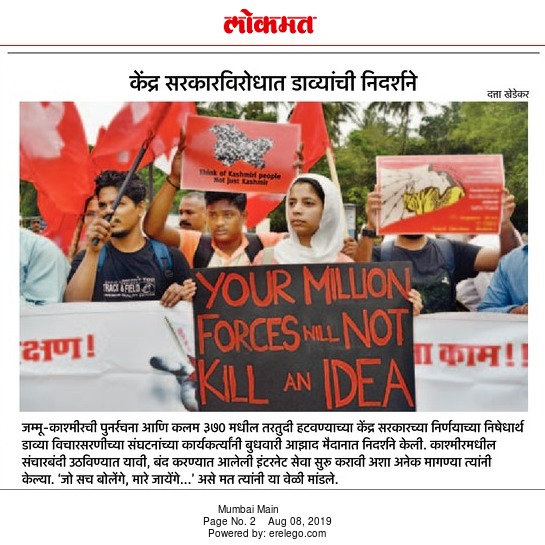 In Kashmir, landlines, Internet broadband and mobile services as well as cable TV were shut down and continue to remain suspended for the fifth day. This clampdown denies the people of the state the right to speech and to express their opinions. It also leaves a huge chasm in understanding the impact of this major move on the people it affects the most: Kashmiris. It denies them their right to free speech and expression, and the right to dissent, which are hallmarks of a democracy.
On August 5, soon after the announcement of the scrapping of Article 370, 8000 more troops were deployed to further garrison Jammu and Kashmir. This deeply militarised situation, curfews to restrict mobility and the absence of free-flow of information can only lead to further disenchantment of an already troubled populace. With even former Chief Ministers under arrest, and public gatherings prohibited under Section 144, the space for democratic discussion and expression have been foreclosed.
The precursor to this unprecedented communications shutdown has been the intense rumour-mongering, fear and panic from the last week of July onward. The rumblings, rumours and an inkling of a major announcement or operation came when an additional 35,000 paramilitary forces were deployed in Kashmir in phases and the complete communication clampdown followed.
As a result, journalists have been unable to carry out their duty of informing the public. Sankarsan Thakur, Delhi-based roving editor with The Telegraph on August 4 tweeted from Srinagar, "Internet services being incrementally snapped by providers across the #Kashmir Valley; consumers being notified."
Malini Parthasarathy, co-chair, The Hindu Group, tweeted on August 6, "It's very unfortunate that our Srinagar correspondent @peerashiq (Peerzada Ashiq) has not been able to file reports from the ground because of the communications shut-off. We aren't able to independently report the ground reality in Kashmir, despite having a reporter there!"
Amit Baruah, resident editor of The Hindu, based in New Delhi highlights the extraordinary nature of this clampdown, "I reported for @the_hindu and @frontline_india under the most trying circumstances intermittently from #Kashmir between Dec 1989 to Feb 1995. I always managed to land my story. But today it's so sad to see that there are no Srinagar datelined stories in our papers. There was curfew, shootings, kidnappings, murders. But every time — tough as it was — the story landed and was used. And, a reminder: we had phones, telex machines and the occasional fax facility. And, it was the CTO (Central Telegraph Office) where we went to file. Today, all comms are personal, but everything has been shut down by the Govt. Unprecedented."
One of the few authentic reports from Srinagar by Muzamil Jaleel, Bashaarat Masood, Adil Akhzer says, "Sure, the Valley has seen many a strike, many a curfew, but this time there's no escaping the difference — with neighbourhoods locked away from each other, too, Kashmir has been turned invisible even inside Kashmir."
As it is, the media in Kashmir has been operating under extreme stress for over three decades, dealing with threats, intimidation and attacks from all quarters. Journalists have been picked up under the draconian NIA investigation process and even falsely accused of stone-pelting while they had been covering protests. The public killing in 2018 of senior journalist Shujaat Bukhari testifies to the nadir of this government-sponsored intimidation policy.
In order to enable the voices of ordinary Kashmiris to be heard, the authorities must:
Immediately restore all means of communication including Internet, landlines, mobile and cable TV
Allow unimpeded movement so that journalists in particular can report authentically from the ground
Enable the constitutionally guaranteed right to free speech and expression.
Free Speech Collective
August 8, 2019